Shortly after Firefox 3 beta 2 available to download, there have been several portable versions of Firefox made available, so you can try out Firefox 3 safely even if you don't have the benefits of virtualization (yet)
Option 1: From portableapps.com (click to visit the download page)
your browser, your way... in your pocket™
Mozilla Firefox®, Portable Edition is the popular Mozilla Firefox web browser bundled with a PortableApps.com Launcher as a portable app, so you can take your bookmarks, extensions and saved passwords with you.
Mozilla Firefox, Portable Edition is an integral part of the PortableApps.com Suite™.
Like Firefox Portable? You'll love having Firefox on your PC:
or


Features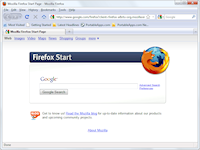 Mozilla Firefox is a fast, full-featured web browser that's easy to use. It has lots of great features including popup-blocking, tabbed-browsing, integrated search, improved privacy features, automatic updating and more. Plus, thanks to the PortableApps.com launcher bundled in the Mozilla Firefox, Portable Edition, it leaves no personal information behind on the machine you run it on, so you can take your favorite browser along with all your favorite bookmarks and extensions with you wherever you go. Learn more about Mozilla Firefox...
Option 2: Portable firefox @ Sourceforge
Related: Firefox 2 portable
Consider this a Happy New Year gift too :)